CORRECTIVE-MICRONUTRIENTS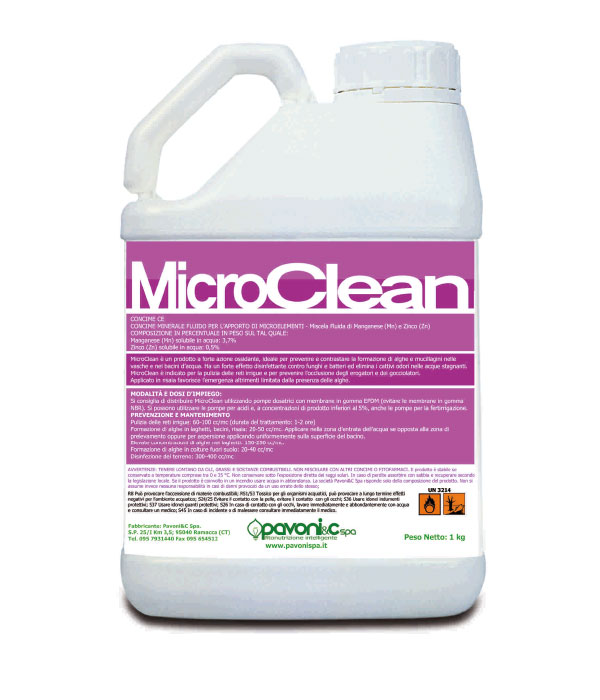 MICROCLEAN
OXIDIZING CLEANING FORMULATION FOR WATER BASINS AND IRRIGATION SYSTEMS


Thank to its strong oxidizing action, MICROCLEAN is particularly indicated to prevent and fight mucilage development in water basins and tank. It also has a strong disinfectant action against bacteria and mildews removing bad smells in backwaters. MICROCLEAN can be employed for cleaning irrigation systems and to prevent nozzles blockage.
Usage procedures
Apply MICROCLEAN by using measuring pumps with EPDM rubber membranes (NBR rubber membranes to be avoided). Acid sprayers can be used and for product concentrations below 5% also fertigation pumps can be used.
Prevention and maintenance
| | |
| --- | --- |
| Fertigation system cleaning | 60-100 cc/mc |
| Weed development in basins, ponds, paddies | 20-50 cc/mc |
| High weed concentration in ponds | 150-250 cc/mc |
| Weed development in soilless crops | 20-40 cc/mc |
| Soil disinfection | 300-400 cc/mc |
DO NOT MIX WITH ACID PRODUCTS. DO NOT MIX OILS AND OTHER FERTILIZERS OR AGROCHEMICALS.